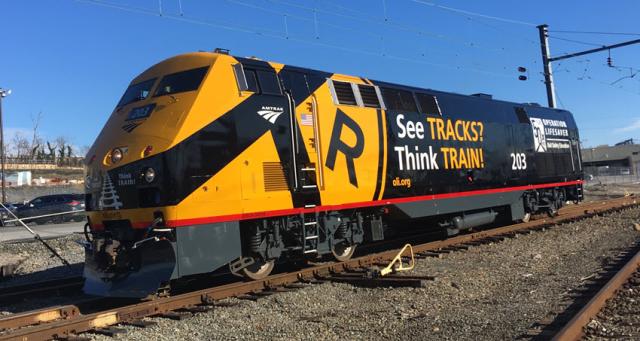 Celebrating Operation Lifesaver's 50th Anniversary
In 2022, Operation Lifesaver (OL) celebrates 50 Years of Rail Safety! Since OL's inception in 1972, collisions at railroad crossings have dropped by over 80%. But there is more work to do – every three hours in the U.S., a person or vehicle is hit by a train.
Our national network of trained volunteers gives free rail safety presentations across the U.S.
Play our Trivia Game!
Test your rail safety and train trivia knowledge.
Try your hand at Operation Lifesaver's Train Track Trivia game! There are 12 games in all - one for every month. Share the link with friends and family and challenge them to compete.
Play Train Track Trivia
Meet a Volunteer
Operation Lifesaver's Authorized Volunteers, or OLAVs, give FREE rail safety presentations throughout the U.S.
Our OLAVs are the heart of Operation Lifesaver's rail safety education efforts. During OL's 50th Anniversary year we are highlighting 50 OLAVs over 50 weeks! Read why our amazing OLAVs volunteer to #STOPTrackTragedies.
Meet our OLAVs
Celebrate with Commemorative Merchandise
Operation Lifesaver has 50th Anniversary Bags, Pins, Stickers and more.
Thanks for helping celebrate #50YearsOfRailSafety throughout 2022.
Operation Lifesaver is a mission driven rail safety education non-profit powered by dedicated people. OL has a long, proud history of sharing the rail safety message.
With programs in 47 states and the District of Columbia, we're making a difference and saving lives in communities around the country.
How can you help #STOPTrackTragedies? Know the Facts. Recognize the Signs. Make Safe Choices. Share the Rail Safety message.
Follow us on social media!
Watch the January 2022 Washington, DC launch event for the Amtrak Commemorative Operation Lifesaver 50th Anniversary Locomotive.
Take The Rail Safety Pledge
Every three hours in the U.S., a person or vehicle is hit by a train.
Make your communities safer. Take the Operation Lifesaver Rail Safety Pledge today!
You Can Help #STOPTrackTragedies.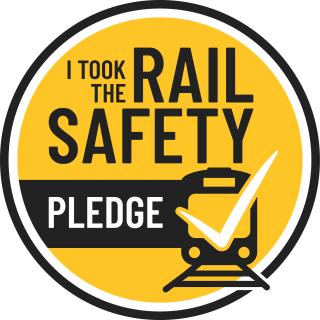 Operation Lifesaver's Impact
For 50 years, Operation Lifesaver has shared the rail safety message in communities across the U.S.
We do this through free in-person presentations, participation in events, and more.
Crossing Collisions have dropped 84% since Operation Lifesaver began.
In 1972 there were 12,000 highway-rail crossing collisions in the U.S.
Despite this improvement, every three hours in the U.S.
A PERSON OR VEHICLE IS HIT BY A TRAIN.