College Students
It is crucial that you know the facts, recognize the signs and make safe choices on and off campus – whether walking or driving around railroad tracks and trains. Don't get distracted! Stay focused and stay safe.
Distracted College Student Rail Safety PSA
All students – especially those who attend a college or university whose campus includes or is near railroad tracks – must recognize the risks to themselves and others around railroad tracks and trains.
Watch the College Student Rail Safety Public Service Announcement in 60, 30 and 15 second versions in English and Spanish.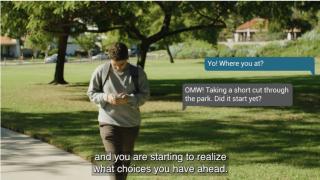 Our #STOPTrackTragedies Public Service Announcement campaign tells the real stories of people who have been personally affected by rail-related incidents and why you should always use caution near railroad tracks and trains.
See the PSAs