Farmers and Farm Machine Operators
Operation Lifesaver wants all farmers and farm machinery operators to be safe in the field. Learn how to keep yourself and your equipment safe.
Watch our public service announcement for farmers and farm machine operators, available in 30 and 15 second versions in English and Spanish.
Know what to do near railroad tracks.
Every 3 hours in the U.S., a person or vehicle is hit by a train.
If you don't fit, don't commit!
Make sure your equipment can completely clear the railroad tracks before starting across.
Always expect a train.
Trains can run on any track, at any time, in either direction.
It can take the average freight train traveling at 55 mph a mile or more to stop.
Farm Vehicle Safety Brochure
Operation Lifesaver's free rail safety brochure helps farmers and farm machine operators stay safe and avoid incidents around railroad tracks and trains.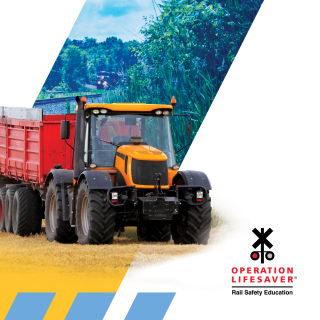 Resources for 4-H and FFA Groups
View and download our lesson package and supplemental handout materials, which include an interactive presentation and practical learning information for Junior Level (ages 8-11) and Senior Level (ages 12-17) students.
Junior Level (ages 8-11) English Materials
Junior Level (ages 8-11) Spanish Materials
Senior Level (ages 12-17) English Materials
Senior Level (ages 12-17) Spanish Materials
Farm Rail Safety Stickers
Operation Lifesaver's rail safety sticker reminds farm machine operators and others to "See tracks? Think Train!"
Order farm rail safety stickers from the OL Store: