Respect the Rails Campaign
Every 3 hours in the United States, a person or vehicle is hit by a train.
For Individuals Experiencing Homelessness
Operation Lifesaver's Choose Safety: Respect the Rails educates and empowers individuals experiencing homelessness to make safe choices for themselves around railroad tracks and trains.
The Choose Safety: Respect the Rails Poster (in English and Spanish) addresses people experiencing homelessness in a visually driven way to highlight positive and adverse choices around railroad tracks and trains.
Consider placing the posters in areas or with organizations where someone experiencing homelessness might see them. Ideas include:
Homeless Shelters
Community Housing              
Clinics
Libraries
Food Kitchens
Public Park Community Boards
Emergency Rooms
Grocery Stores
Religious Organizations and Outreach
Bus Stations
Veterans Administration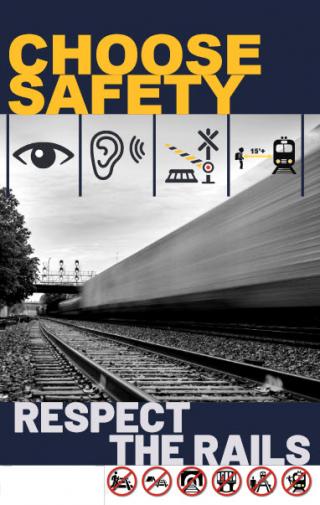 For Professionals and Volunteers Working with Homeless Individuals
Choose Safety: Respect the Rails educates professionals and volunteers who work with people experiencing homelessness about the dangers that individuals experiencing homelessness may face near trains and tracks. Sharing these safety tips, displaying posters and encouraging community organizations to request a FREE OLI presentation can save lives.
The Choose Safety: Respect the Rails brochure addresses the professionals and volunteers who work WITH people experiencing homelessness. The brochure offers lifesaving rail safety tips for homeless advocates and providers to share when appropriate with their clients, including information on how to request FREE Operation Lifesaver safety presentations.
Consider sharing these brochures with professionals and volunteers from organizations including:
Shelter Staff
Clinic Staff
Police
Librarians
Food Kitchen Staff
Volunteer Organizations
Salvation Army
Goodwill
Transitional Housing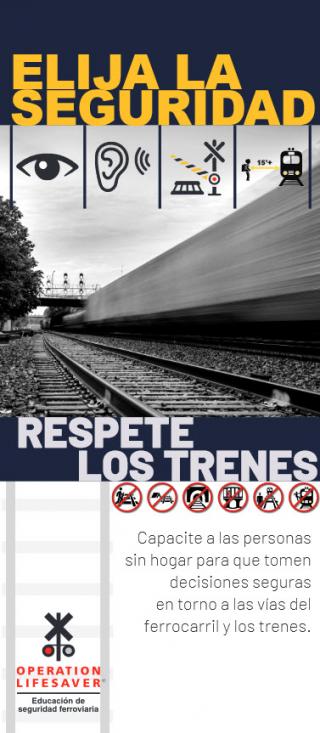 Operation Lifesaver encourages you to use these resources in creative ways to help spread share rail safety messages.
For additional information and ideas, contact OLI's Director of Communications and Marketing, Jennifer DeAngelis at jdeangelis@oli.org, 202-85-4340.
Read the press release for more information on these materials and the campaign.
To see if a free safety presentation is available in your state, visit oli.org/request-presentation.
Visit the OL Materials Library
Visit Operation Lifesaver, Inc.'s free digital library of resources to help raise awareness about the importance of rail safety. Search by type of materials, audience or topic.