First Responders
Emergency responders are a critical rail safety partner. Always stay alert where the roadway crosses train tracks, whether responding to incidents or preventing them. Safety for officers and other emergency response personnel is of utmost importance.
Know what to do near railroad tracks.
Collisions between trains and vehicles or pedestrians occur approximately every three hours in the U.S.
Train tracks are active tracks until railroad companies are notified.
Locate the blue and white emergency notification system sign. Call the number provided.
Each crossing has a blue and white ENS sign with a specific 800 number and crossing identification number.
Watch our 30-second PSA
Know the railroads in your community.
Familiarize yourself with the railroads who own the tracks and have their dispatch center emergency numbers available.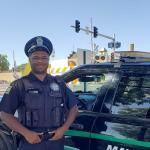 FIRST RESPONDERS ARE NOT IMMUNE TO INCIDENTS INVOLVING TRAINS.
Since 1877, more than 200 officers have died as a result of a collision with a train.
Since 2012, nine emergency response personnel have been injured in collisions with trains.
Sources:Officer Down Memorial Page, Federal Railroad Administration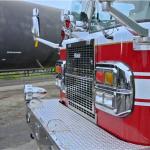 YOUR SAFETY FIRST
As you perform your daily duties, avoid becoming complacent about the tracks, warning devices, and the possibility of approaching trains.
When responding to the scene of a collision or other emergency, avoid becoming focused on the call and distracted from the hazards along the route.
Always expect a train—on any track, at any time, in either direction.