School Bus Drivers
School bus driver decisions directly impact their communities. If a route includes railroad crossings, it's important to know what to do when you see railroad signs and signals.
Free Safety Materials for School Bus Drivers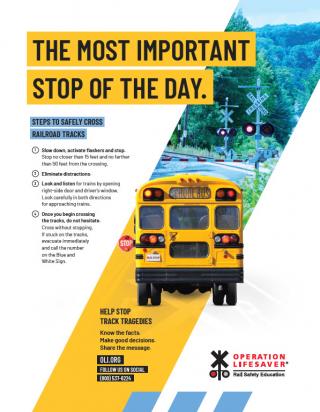 Resources for School Bus Drivers
OLI's eLearning for School Bus Drivers is being updated and will be available in the coming months.
View and download our "See Tracks? Think Train!" school bus safety poster 
Check our out OLI's Safety Tips for School Bus Drivers.
Decide Smart, Arrive Safe is Operation Lifesaver's Highway-Rail Grade Crossing Awareness training for school bus drivers. Produced in cooperation with the pupil transportation industry and U.S. DOT for Operation Lifesaver, Inc., this video alerts school bus drivers to potential dangers existing at highway-rail grade crossings, outlining the steps necessary to help ensure the safety of students in their care.
Training Materials - Download OLI's Highway-Rail Grade Crossing Training for School Bus Drivers materials below in PDF format.
Other School Bus Driver Materials