Mature Drivers
Whether approaching or driving over railroad tracks, it's imperative that drivers 50 and over – and all drivers – recognize the risks to themselves and others, know the signs and make safe choices.
Mature Drivers Rail Safety PSA
Watch our Mature Drivers Rail Safety Public Service Announcement in 60, 30 and 15 second versions in English and Spanish.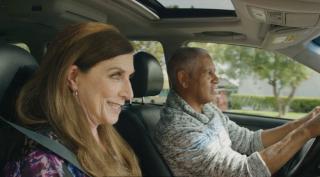 Always expect a train.
Trains are quieter and move faster than you think. They can run at any time, on any track in either direction.
GET OUT! GET AWAY! FIND THE BLUE AND WHITE SIGN.
If your vehicle gets stuck or stalls at a crossing, get everyone out and far away immediately, even if you do not see a train.
Know what to do near railroad tracks.
Collisions between trains and vehicles or pedestrians occur approximately every three hours in the U.S.
Our #STOPTrackTragedies Public Service Announcement campaign tells the real stories of people who have been personally affected by rail-related incidents and why you should always use caution near railroad tracks and trains.
Learn more and see the PSAs