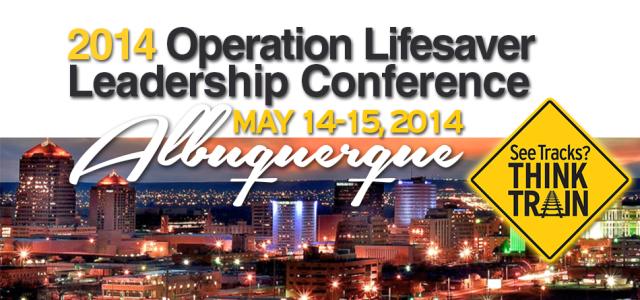 FRA Administrator Joe Szabo to Keynote Operation Lifesaver 2014 Leadership Conference
Conference Set for May 14-15, 2014 in Albuquerque, N.M.
ALEXANDRIA, Va. -- Operation Lifesaver (OLI, oli.org), the national, nonprofit rail safety education organization, will hold its 2014 Leadership Conference and Training Seminars May 14-15 at the Embassy Suites, 1000 Woodward Place NE in Albuquerque, N.M. Federal Railroad Administrator Joseph Szabo will be the keynote speaker at the event, which will draw OL state leaders, authorized volunteers, coaches, safety partners and other rail safety advocates. The conference theme is "See Tracks? Think Train!" The theme is also the slogan of Operation Lifesaver's upcoming public awareness campaign, to be launched this spring.
"We are honored to have Administrator Szabo as the keynote speaker for our Leadership Conference, which will explore the latest information and tools for reducing vehicle-train collisions and pedestrian rail trespass incidents in the United States and around the world," said OLI President and CEO Joyce Rose.
Sessions will include updates on engineering, education and enforcement efforts to prevent vehicle-train collisions at highway-rail intersections and pedestrian rail trespass incidents. An update on the See Tracks? Think Train! campaign will be a featured session. Operation Lifesaver is also inviting interested safety partners to exhibit at the conference. 
The Leadership Conference starts at 1 p.m. on May 14th and concludes with an awards dinner on the evening of May 15. At that dinner, the 2014 F. Tom Roberts Memorial Award will be presented to an individual volunteer who exemplifies the organization's dedication to preventing tragedies and saving lives.
A daylong session for Operation Lifesaver state coordinators will held on May 13; OL coaches will have a special training session on the morning of May 14. 
Online registration for the conference is now open; more details, including hotel reservation information, is available at http://oli.org/about-us/news/2014-Leadership-Conference. 
About Operation Lifesaver
Operation Lifesaver's mission is to end collisions, deaths and injuries at highway-rail grade crossings and along railroad rights of way. A national network of trained volunteers provides free presentations on rail safety. Learn more at http://www.oli.org; follow OLI on Facebook, Twitter, Instagram and Pinterest.