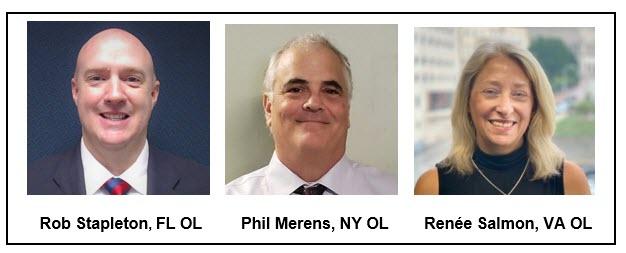 Operation Lifesaver names new state coordinators in Florida, New York and Virginia
Washington, D.C. (August 28, 2019) – Three new leaders are in place for rail safety nonprofit Operation Lifesaver, Inc. (OLI) state programs, says OLI Executive Director Rachel Maleh. Florida Operation Lifesaver's State Coordinator is Rob Stapleton,Phil Merens serves in that role for New York's Operation Lifesaver program, and Renée Salmon leads the Operation Lifesaver program in Virginia.
"Operation Lifesaver is thrilled to have these three safety and nonprofit experts working to make communities safer in Florida, New York and Virginia," says Maleh.
Stapleton, a resident of Tallahassee, assumed the lead role for Florida Operation Lifesaver as Rail Operations Administrator at the Florida Department of Transportation (FDOT). He took over the Florida OL position upon the retirement of former Florida OL State Coordinator Scott Allbritton. He joined the FDOT Freight & Multimodal Operations Office in April 2018, serving as the Rail Crossing Opening/Closure Program Manager before his current appointment. Prior to joining FDOT he worked as a yard operations manager for Union Pacific. He is an Operation Lifesaver Authorized Volunteer (OLAV) who enjoys making safety presentations to schools and other audiences. Originally from Crestview, Fla., he is a graduate of Florida State University.
"Operation Lifesaver's mission of saving lives is more important than ever in the Sunshine State," says Stapleton.
Merens, a resident of Voorheesville, N.Y., has been involved with Operation Lifesaver since April 1, when he succeeded retiring New York State Coordinator Evan Eisenhandler. Merens has served in management positions of non-profit organizations since 1990. He has helped statewide associations and local nonprofits serve their communities, expand their fundraising horizons and create new programs.
"I am excited to help further New York Operation Lifesaver's important mission to educate the public about rail safety. Our free presentations can save lives," says Merens.
Salmon, a Mechanicsville, Va., resident, is restarting a Virginia OL program that had been dormant for a few years. She has worked for the Virginia State Corporation Commission (SCC) for nearly 30 years, primarily in the Division of Utility and Railroad Safety. In her current SCC role of Operations Manager, Salmon supports the Division's rail safety, pipeline safety, and underground utility damage prevention mission. In addition to those duties, she was recently appointed as Rail Safety Manager.
"I am excited to implement the program in Virginia. I look forward to promoting education and awareness about safety around rail crossings as well as near railroad tracks and trains," says Salmon.
Stapleton may be reached at floridaol@dot.state.fl.us and/or 850-414-4553. Merens may be reached at NYOLStateCoordinator@gmail.com and/or 518-269-9131. Salmon may be reached at renee.salmon@scc.virginia.gov and/or 804-371-9947.
About Operation Lifesaver
Operation Lifesaver is a nonprofit public safety education and awareness organization dedicated to reducing collisions, fatalities and injuries at highway-rail crossings and preventing trespassing on or near railroad tracks. A national network of trained volunteers gives free presentations on rail safety and a public awareness campaign, See Tracks? Think Train!" provides tips and statistics to encourage safe behavior near the tracks. OLI leads an international observance of Rail Safety Week each September. Learn more about Rail Safety Week; follow OLI on Facebook, Instagram, LinkedIn, Twitter and Pinterest. 
###