Stay Alive When You Drive
When you're a professional driver, you're always on the move. The more you know about rail safety the better prepared you'll be to deliver your cargo safely every time. Operation Lifesaver provides professional truck drivers with crucial information to safely navigate highway-rail grade crossings.
Five Safety Tips for Truck Drivers
It can take the average freight train traveling at 55 mph a mile or more to stop.
 
At crossings, don't stop any closer than 15 feet. If you're in traffic, don't go forward if you can't safely clear the crossing. Keep in mind there's an overhang, both for your truck and a train, of 3 feet or more.
 
Make sure that trailer jacks are in the up position; non-retracted trailer jacks can cause trailers to become stuck on crossings.
 
If you get stuck at the crossing, get out and call the 800 number posted at the crossing, or call local police to alert trains of your position.
 
Cell phones are the top distraction for all drivers; many states prohibit the use of hand-held devices while driving.
Take the ProDriver challenge!
Stay safe and avoid potentially deadly incidents at highway-rail grade crossings with our interactive ProDriver Challenge!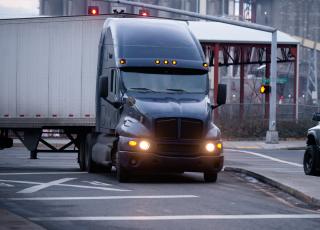 A standard line haul unit weighing 80,000 pounds and pulling a 53-foot trailer on a level road under good surface conditions requires a minimum of 14 seconds to clear a single track and more than 15 seconds to clear a double track.
VIDEOS & TRAINING
Stay Alive When You Drive - Operation Lifesaver, Inc.'s professional drivers video