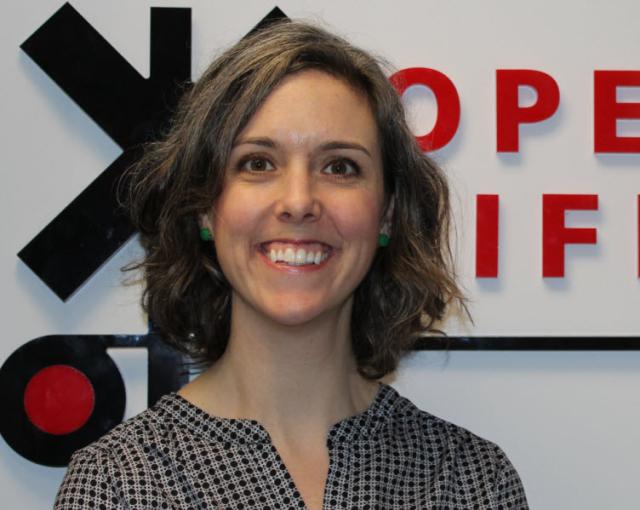 Libby Rector Snipe Joins Operation Lifesaver, Inc. as Director of Communications
WASHINGTON, DC, November 17, 2014 – Libby Rector Snipe has been named director of communications for Operation Lifesaver, Inc. (OLI, www.oli.org), OLI President and CEO Joyce Rose announced today.
"Libby is a savvy strategic communications professional with extensive non-profit experience developing and executing integrated marketing campaigns," said Rose. "Those skills, along with her expertise in content creation and branding, will help Operation Lifesaver, Inc. in its ongoing mission to increase public awareness of the need for caution near tracks and trains."
Rector Snipe has been with Wolf Trap Foundation for the Performing Arts since 2000, where she has served in a number of creative and marketing roles, including communications and marketing associate, copywriter/graphic artist, and assistant creative director.  Her talents include writing and public relations, designing and producing annual reports, marketing collateral, and email blast campaigns to increase exposure of Wolf Trap's programs and mission.
Most recently, she was communications/creative director for Wolf Trap, where she led a team of professionals in the development and execution of creative campaigns. She also created content for digital and print marketing campaigns, education materials, and executive communications, increased brand consistency for the web and social media, and planned social media strategy.
An arts advocate, Rector Snipe serves on the board of Bowen McCauley Dance company in Arlington, Virginia, and previously was a press associate with the Madcap Players in Washington, DC. She holds a Bachelor of Arts in Communication from Saint Mary's College, Notre Dame, Indiana.
Tweetables!
About Operation Lifesaver
Operation Lifesaver's mission is to end collisions, deaths and injuries at highway-rail grade crossings and along railroad rights of way. A national network of trained volunteers provides free presentations on rail safety. Learn more at http://www.oli.org; follow OLI on Facebook, Twitter, Pinterest and Instagram.
###