Devices at the Crossing
Flashing Red Lights — with or without bells
Warns of an approaching train.
When the red lights are flashing, a train is approaching. Stop and wait for the train to pass, then proceed when it is clearly safe to do so.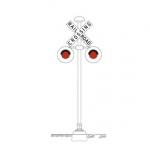 Flashing Red Lights and Gates. It is illegal to go around the gates.
Warns of an approaching train and used to close the road when a train approaches.
It is only legal to drive around lowered gates if the crossing is flagged by a law officer or railroad employee.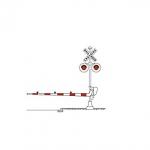 Cantilever Flashing Lights
Warns of an approaching train.
Designed to cover all the traffic lanes so the crossing warning is visible to all drivers on multi-lane roads.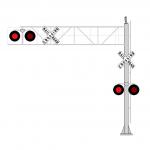 Learn More about these Signals
Why aren't there gates at all crossings?
Some crossings have very little vehicular and train traffic. At such crossings it may not be cost effective to install and maintain gates or flashing lights. Decisions regarding the appropriate type of warning devices are made by the state highway officials. Gates do not prevent crashes, people do. Statistics show that approximately half of all highway-rail grade crossing incidents occur where gates and flashing lights or some active warning device is present and operational.
Who is responsible for grade crossing signals?
Because the grade crossing is where two modes of transportation intersect, the railroad and the state highway-local street agencies share in the installation and maintenance of the signals. However, driver and pedestrians have the responsibility for adhering to the warnings the signals provide. Any signal ignored is as useless as no signal at all.